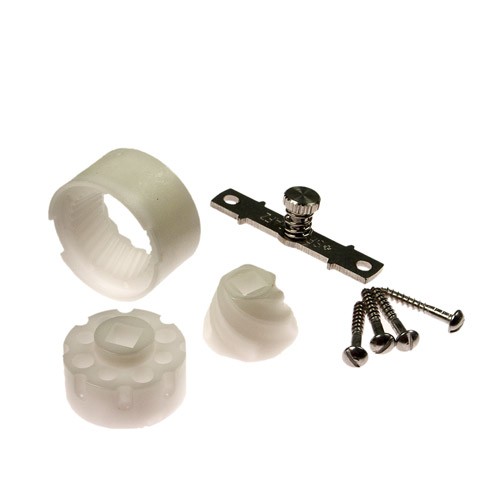 Please inform me as soon as the product is available again.
Order number:

MW3000.00(o/K)
The spindle and knob are not included in the scope of delivery. Please select spindle and knob...
more
Product information "Salt grinder (plastic)"
The spindle and knob are not included in the scope of delivery. Please select spindle and knob additionally.
consisting of: grinding ring, grinding cone, bracket and driver
Recommendation:
A Forstner bit with a diameter of 22 mm can be used to drill out the wooden body (through hole) - possibly with a drill extension. The lower bore extensions 26 mm for the grinding ring and 38-40 mm for the adjustment bracket as well as on the opposite side for the rotating lid rebate can be done with a turning scraper. See diagram.
If you want to drill out these diameters with a Forstner bit, you have to do this before drilling the through hole so that it can be centered in the wood.
We recommend the FAMAG BORMAX or ZOBO drilling systems. Both systems are available for a variety of diameters and also with extensions.
A simple twist drill for 5.5 mm can be used for the through hole on the rotating cover. It is advisable to enlarge the bore from the underside of the rotary cover to 7.5 mm.
Please note:
Strässler's precision grinders are guaranteed for 10 years. It should be noted, however, that parts that have become defective due to improper handling and normal wear and tear cannot be replaced free of charge. For this it is particularly important that the grinders are installed in accordance with the manufacturer's instructions. This means that when installing the pepper, salt or caraway grinders, it is essential to ensure that the length of the cover is at least 0.5 to 1.0 mm when the "knob" is tightened and the adjusting screw (below) is in the middle Has game. It must never be possible to tighten the grinder with the knob! The fineness of the grist is always set with the lower adjusting screw. This practically results in a "lifelong" faultless function.
Related links to "Salt grinder (plastic)"
Available downloads:
Read, write and discuss reviews...
more
Customer evaluation for "Salt grinder (plastic)"
Write an evaluation
Evaluations will be activated after verification.