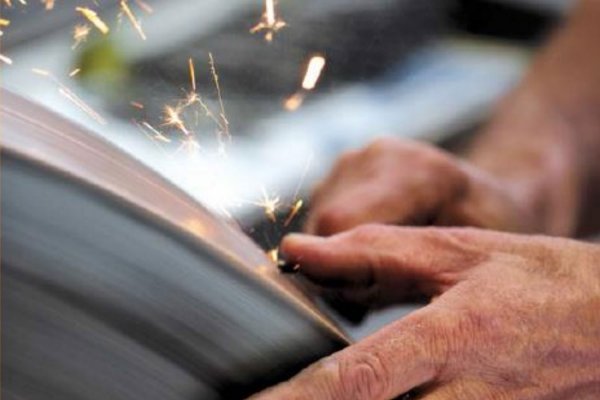 Bitte beachten Sie, dass wir diesen Schärfservice ausschließlich für Schnitz- und...
more
Product information "Sharpening carving tool"
Bitte beachten Sie, dass wir diesen Schärfservice ausschließlich für Schnitz- und Bildhauerwerkzeug anbieten. Für andere Werkzeuge, einschließlich Drechselwerkzeug, bieten wir diesen Service derzeit nicht an!
Das fachgerechte Schärfen von Schnitz- oder Bildhauerwerkzeugen stellt für viele Anwender eine große Herausforderung dar. Herkömmliche Schärfdienste sind oft nicht in der Lage, die richtige Schneiden-Geometrie herzustellen. Dazu ist viel Erfahrung beim Umgang mit Schnitzwerkzeugen notwendig. In Kooperation mit einem Bildhauermeister aus dem Erzgebirge bieten wir das professionelle Schärfen von Schnitzwerkzeugen an.
Sie können Ihre Werkzeuge an uns schicken und bekommen sie innerhalb von 5 - 12 Tagen anwendungsbereit geschärft wieder zurück. Die Kosten sind abhängig von der Größe des Werkzeugs. Bitte wählen Sie die entsprechenden Varianten aus und geben die jeweiligen Mengen an. Die Kosten für die Versendung zu uns tragen Sie selbst. Für die Rücksendung berechnen wir 5,95 € inkl. MwSt. und Verpackung.
Laden Sie bitte das Auftragsformular herunter (Link unten) und fügen Sie es ausgefüllt der Lieferung bei. Geben Sie bitte eine Telefonnummer an, unter der Sie tagsüber erreichbar sind. Bei besonderen Anschliffen ist es unter Umständen erforderlich, Rücksprache zu halten. Sicherheitshalber empfehlen wir, die Werkzeuge am Griff zu kennzeichnen (wischfester Stift, Einkerbung, Brandzeichen o.ä.). Weiterhin ist es von Vorteil, wenn die Schneiden geschützt sind (Korken, Klebeband, bestenfalls in einer Wickeltasche verpackt), damit Beschädigungen beim Transport ausgeschlossen werden.
Related links to "Sharpening carving tool"
Available downloads:
Read, write and discuss reviews...
more
Customer evaluation for "Sharpening carving tool"
Write an evaluation
Evaluations will be activated after verification.