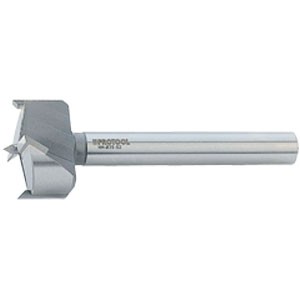 Please inform me as soon as the product is available again.
Please select the drill diameter! Please also note the matching accessories on the right!...
more
Product information "ZOBO drill system 2 carbide"
Please select the drill diameter!
Please also note the matching accessories on the right!
Information brochure and accessories overview (PDF 0.8 MB):
click here ...
ZOBO drill system 2 carbide
Diameter 10-30 mm.
Drill Ø: 10-30 mm
Shank Ø: 9 mm
Total length: 100 mm
Bore Ø for centering points etc .: 2.5 mm
incl. 1 centering point CP-WD 2.5 x 3.5
The center points and center drills are interchangeable.
The carbide WD HW drill is particularly suitable for hardwood and panel material.
Problem-free drilling in different panel materials thanks to carbide cutting edges.
Exactly fitting extensions enable precise deep holes for wall or ceiling penetrations.
Thanks to the depth adjuster, holes can be made with a defined drilling depth and high accuracy.

General information about the ZOBO drill systems:

Whether oblique or straight. The center points of different lengths guarantee precise and pinpoint drilling.
Flawless cutting results on high-quality components thanks to tear-free bores on both sides of the workpiece.
Exact pre-cutting and precise main cutting ensure a surface quality that is otherwise only produced by planing.
ZOBO drills guarantee the highest performance values in terms of service life and drilling progress thanks to high-alloy chrome steel, hardened and precisely ground with a hard chrome-plated surface.
Resharpen right down to the center. The center point is simply removed for resharpening. Can be resharpened up to 30 times if handled properly.
The ZOBO chrome steel and carbide drills are available in a wide range of diameters. The extensive range extends from Ø 10 - 100 mm. Intermediate sizes are available on request.
The cutting edges made of chrome steel or carbide guarantee problem-free drilling in a wide variety of materials.
Chrome steel drills are particularly suitable for all hard and soft woods.
Carbide drills are designed for use with panel materials, so they are ideal for processing chipboard or multilayer panels (e.g. multiplex).
Related links to "ZOBO drill system 2 carbide"
Read, write and discuss reviews...
more
Customer evaluation for "ZOBO drill system 2 carbide"
Write an evaluation
Evaluations will be activated after verification.