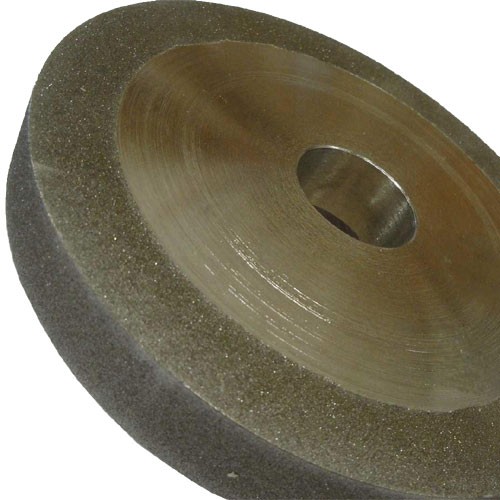 Prices incl. VAT plus shipping costs
only 3 in stock available immediately
Voraussichtlicher Versand Mittwoch, 21.10.2020
OptiGrind® grinding wheels consist of a steel body which is coated with CBN on the...
more
Product information "CBN grinding wheel"
OptiGrind® grinding wheels consist of a steel body which is coated with CBN on the circumference and on one side approx. 17 mm wide. After diamond, CBN is the second hardest known material. It is great for grinding steel. The big advantage over conventional corundum grinding wheels is that the tools hardly heat up when used properly. The heat generated is dissipated very well through the steel body. With very little pressure (not much more than the weight of the tool), you not only have excellent stock removal rates, but also an amazingly good finish and an excellent cutting edge.
There are almost no sparks when grinding HSS, and very few when machining hardened steel. "Burning" of the tool is almost unknown. The extraordinary hardness of the abrasive grain ensures an extremely long service life of the sharpening wheels if handled correctly. When used correctly, tools made from CBN wear out much more slowly than other cutting materials.
The application speed should be around 1,900 - 2,500 rpm for Ø 150 mm and around 1,500 - 2,000 rpm for Ø 200 mm
The diameter of the discs is 150 or 200 mm, the width 20, 25 or 40 mm. Please select the desired dimensions.
Grit size B91 (corresponds to approx. Grit 180), suitable for HSS tools.
The diameter of the mounting hole is 32 mm. The length of the hole inside is 20 mm (the same for all pane widths).
We offer mounting flanges (reducing sleeves) for smaller shaft diameters as accessories. There is also a mount for M33 x 3.5 thread.
Related links to "CBN grinding wheel"
Read, write and discuss reviews...
more
Customer evaluation for "CBN grinding wheel"
Write an evaluation
Evaluations will be activated after verification.