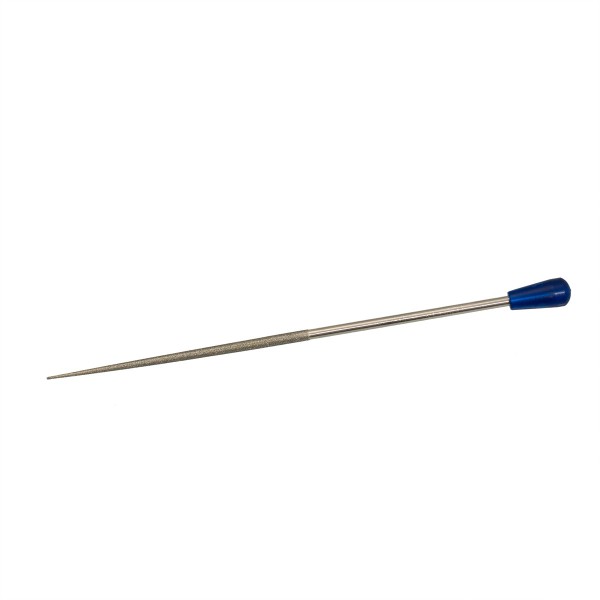 Prices incl. VAT plus shipping costs
only 3 in stock available immediately
Voraussichtlicher Versand Donnerstag, 03.12.2020
Needle diamond file, Ø 3 mm tapering to a point, length 140 mm, length of the covering 70 mm...
more
Product information "small round diamond file"
Needle diamond file, Ø 3 mm tapering to a point, length 140 mm, length of the covering 70 mm
Honing stones are aids for the manual honing of ground tools. A distinction is made between natural stones and artificial stones. Natural stones come from quarries and are conditionally different in size, quality and appearance. Artificial stones consist of ceramic materials that have been pressed into shapes and fired. They are homogeneous in structure and identical in shape and appearance. They can be produced in different grain sizes (degrees of fineness). The following sharpening stones have proven themselves for high-quality cutting tools such as those used by carpenters, wood sculptors and turners:
---

A - natural stones
Yellow Belgian Brocken - a water whetstone.
This is the most famous natural whetstone. It is offered in two qualities: Quality I (extra-extra) and Quality II (extra-fine) and in different sizes and shapes: bench stone in rectangular shape, chunks in irregular shape and as shaped stone. The specified qualities are predominantly optical grades. Quality II can have blemishes. In terms of stone quality, however, it is identical to type I. In addition, a distinction is made between the expensive, solid yellow chunks and the chunks and bank stones with a slate back. The slate back is necessary to stabilize the yellow stones, because the thin stone layers in the quarries usually provide the best quality.
Blue Belgian Brocken - also a water honing stone
In search of an alternative to the ever decreasing yellow stone, one came across a high-quality sharpening stone with almost identical properties, only in a blue-gray color, which comes from iron oxide. This stone contains approx. 30% garnets compared to the yellow stone with approx. 40%. As a result, this blue stone is a little "slower" than the yellow but also more durable.
Arkansas - for use with oil or water.
They are also one of the classics among sharpening stones. In contrast to the Belgian chunks, the Arkansas is much harder. As a result, the respective stone shape is largely retained even after years of use. Working with Arkansas is more time-consuming, but it does produce highly polished steel surfaces. The most common Arkansas is the gray hard Arkansas (H). There is also the yellow soft Arkansas (S) and the rare black Arkansas, the so-called Königstein (K). The Arkansas stones also come in a variety of shapes. In addition to irregular chunks and box stones, multi-shaped stones, hollow chisel stones, stones with various edge profiles and round files are offered. The four sets of small whetstones with different edge profiles have proven themselves for sculptors.
Japanese chunks - (HONYAMA) for use with water.
They are directly comparable to the yellow Belgian chunks
---
B - artificial stones
Arkansas artificial stones - for use with water or oil.
This whetstone is made of aluminum oxide. The color is white. With it you can achieve fast material removal with a good surface quality. It is available as a bench stone, gouge stone, multi-shaped stone and shaped knife stone.
Corap sharpening stones - for use with water or oil.
This whetstone is made of aluminum oxide. The color is red to pink. With it you can achieve a very good surface with good material removal. They are available in fine, medium and coarse grain. We recommend the fine grain size for high-alloy tools. These sharpening stones are available as bench stones, gouge stones, multi-shaped stones and shaped knife stones. These Corap whetstones are - also because of their low prices - the most used whetstones for woodturners.
Sicorit sharpening stones - for use with oil or water.
These sharpening stones are the highest quality artificial stones. They are comparable to the best natural hard Arkansas stones. The color is white. The extremely hard and fine crystals that make up these stones guarantee the greatest possible resistance to wear and tear and change in shape. They guarantee the best surface quality and shape accuracy of the workpiece to be machined. These stones are available as bench stone, hollow chisel stone, multi-shaped stone, shaped knife stone, grinding files and wood carving sets (four pieces with different edge profiles)
Silap sharpening stones - for use with water or oil.
These sharpening stones are made from silicon carbide. Their color is green-blue to gray. They are particularly suitable for machining hard metal and light metal. Therefore they are less suitable for the common alloy steels. Due to their hardness, however, they are somewhat more dimensionally stable than the red aluminum oxide whetstones. They are also available as bench stones, gouge stones, multi-shaped stones and in knife form.
---
C - diamond files
In the last few decades, diamond sharpening stones and, above all, diamond files have become increasingly popular. These have the advantages that they wear out much less than sharpening stones and that they are easier to use for many applications. They can also be used to re-sharpen the respective cutting edge much more often before a new basic grind has to be carried out with a sharpening machine. The handling is similar to that of whetstones. Only water is used as a lubricant.
These diamond honing devices are available in grits 400, 600 and 1200. The shapes offered are blocks similar to bench stones, files in various shapes and dimensions and the so-called credit card shapes. 600 grit is recommended for turning tools, 1200 grit for sculpting tools. The most common forms are the flat files, which are glued onto a plastic carrier as a stylus.
---
More information
Since most whetstones can be used with both water and oil as a lubricant, it must be mentioned that the user must choose one of the two. When working with oil, the following rule applies: once oil - always oil. Oil is more "pliable" than water for handling, but it carries the risk that traces of oil can get onto the piece of wood and leave stains there.
The standard range of whetstones offered in the DRECHSELZENTRUM ERZGEBIRGE and in the online shops of our company is limited to the most common qualities and shapes for the joinery, wood turner and wood carver professions. Carpenters prefer the Belgian Brocken, turners prefer Corap sharpening stones and sculptors prefer Arkansas and Sicorit sharpening stones. The turners are increasingly turning to the new possibilities with diamond files.
Related links to "small round diamond file"
Read, write and discuss reviews...
more
Customer evaluation for "small round diamond file"
Write an evaluation
Evaluations will be activated after verification.