Prices incl. VAT plus shipping costs
more than 50 in stock available immediately
Voraussichtlicher Versand Dienstag, 03.11.2020
for reliably securing the chuck and workpiece against running off / turning off when running...
more
Product information "form-fitting drainage protection"
for reliably securing the chuck and workpiece against running off / turning off when running clockwise / counterclockwise and when braking hard.
foldable variant for easy assembly
Suitable for M33 x 3.5 lathes and chucks with safety groove in EURO standard (ASR). Form-fitting discharge safety devices are significantly more gentle on the material than non-positive versions with grub screws that press on the centering collar of the spindle head. With simple discharge safety devices with clamping screws, there is a risk that the centering collar will be damaged.
Image process safety device EURO-Norm / ASR (please click to enlarge)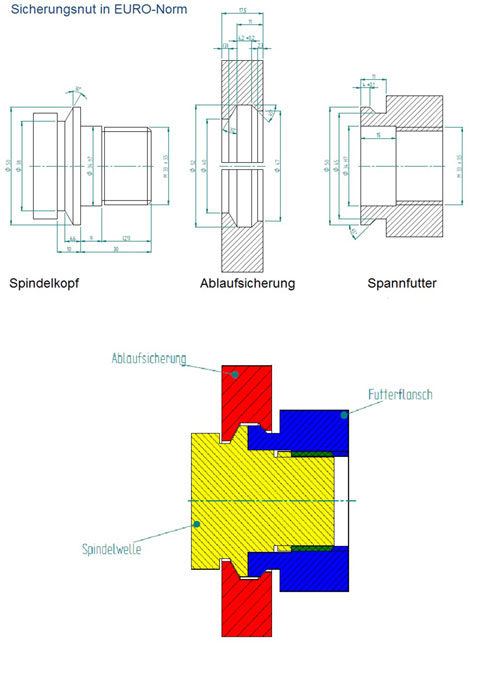 General information on the topic of process backup ( source: "Enzyklopädie Drechnern", Steinert )
Safety at the workplace plays a particularly important role in hand turning, as the turner works directly on the rotating workpiece. Injuries can occur here as a result of subjective errors, i.e. carelessness or insufficient knowledge in handling the tools or the machine and the chucks. But there are also objective measures for occupational safety at the lathe. This includes measures for correctly fastening the chucks: Most chucks are designed so that they are screwed onto the spindle of the lathe headstock with a thread. When screwing on the chuck and while working (turning), the thread (right-hand thread) tightens. However, if the direction of rotation is changed (e.g. for particularly clean grinding), the chuck with the workpiece can come loose from the spindle. But even when the drive is switched off and strongly braked, the chuck can run off the thread due to the inertia of the mass and thus fall down while rotating. To prevent this, there are drain safety devices, especially for heavy feed. In the simplest case, these are screws that press laterally on the spindle shaft or on the centering collar of the thread. Such screws can damage the spindle. This is why some machines have a groove in the spindle at this point. Drain safety devices in the form of overlapping clamping rings are particularly safe and professional. Such safety rings engage in a groove that has been screwed into the spindle and the chuck. All spindles should therefore have such a groove and all heavy chucks should have corresponding grooves. Several well-known machine and feed manufacturers have made this system their own. The aim is to define this safety system as a standard with all manufacturers of turning lathes and wood turning chucks so that the dimensions are uniform and so that all chucks from the various manufacturers can be used on all machines with the same locking rings.
Related links to "form-fitting drainage protection"
Read, write and discuss reviews...
more
Customer evaluation for "form-fitting drainage protection"
Write an evaluation
Evaluations will be activated after verification.